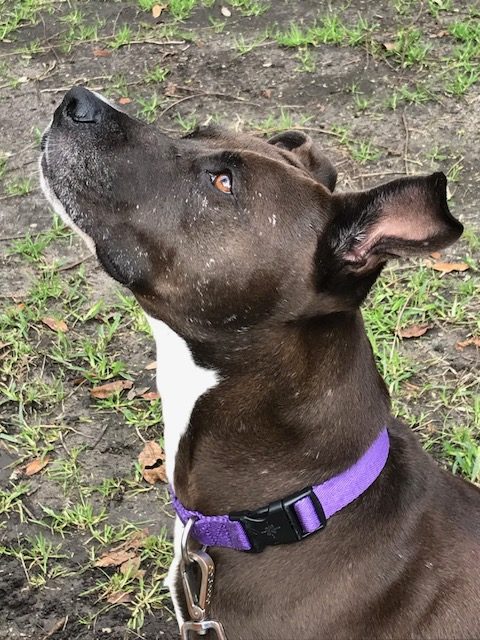 Last Tuesday night I woke at 3:00 a.m. to my dog panting hard and lying down on the floor next to my bed.  He had lost control of his bowels and was clearly in distress.   We jumped out of bed and after a few moments running around like chickens with our heads cut off cleaning up poop, assessing the situation, we got online to find an animal ER.   As my husband carried him 3 flights down to the car a trail of explosive bloody diarrhea followed, fortunately starting right as he got to the hardwood.  Time didn't allow for us to stop and clean it up.   I had pulled my car out of the garage and forward ½ way across the security gate opening so Mike wouldn't have to navigate the dog around our front bushes, the gate closed right on my car.  I didn't care!  The important thing at that moment was getting my dog the help he needed.  He completely threw up massive amounts of poop, yes liquid poop on me in the backseat and I started to cry because it seemed like he was dying on me and we couldn't get to the vet in time.     
We did eventually make it there, and his markers were off the charts bad.  It seemed he had an anaphylactic reaction to something and had we not brought him in we would have woken up to dead dog in our bedroom.  I feel a bit sick as I type this, as my dog is like one of my kids, I love him that much.   I knew the costs would be high with blood work, x-rays, meds, fees, and whatever else and at that moment I just didn't care.  I didn't care what it cost because you can't put a price on something so precious to you.    I went back at lunch time for visiting hours and sat inside his huge crate with him and held him as he got his plasma infusion.   He would have a total of 6 hours of plasma (I didn't stay the entire time).    He was stabilizing and although he seemed bummed out to be plugged in, he was alive! 
I didn't care about the costs.  I didn't care at all about the money ($2800).  I didn't care about walking around covered in liquid dog poop.  I didn't care about the time.  My love for this animal trumped all of that.  It really surprised me because I swore I would never be one of "those" dog people that would lay down thousands of dollars to save a dog, and here I was saying to my husband I don't care what it costs.  You see, this dog is not just a dog.  I work from home, so he is my companion.  I start every day with a 20-40 minute walk with him.   He gets 3 walks with me that last 20-40 minutes then an hour walk with Mike at night.   He comforts my clients like a therapy dog when they are crying on my couch.  He sits outside my energy space when I am running Marconics Energy on my clients.  I didn't realize until today how he has completely integrated into my daily life.  He forces me to stop what I'm doing and get outside and exercise 3 times a day, he is awesome as far as dogs go.  He never barks.  The only negative is he is terrified of thunder and jumps in our bed during storms pushing Mike off.  I gained perspective about what holds value in my life. 
The things I value in my life are intangible like my love for my dog and relationships with people.  My relationships are important to me.  It's who my kids are on a soul level as human beings and how much I love them that is important.  It's how amazing my husband was carrying my sick dog, driving us to ER and not batting an eyelash when they gave us the price tag because he knew there was no way I would let something I loved so much die over a number.   Even though my husband had a FULL day at work of meetings and deadlines, he started his day at 3:30 a.m. and showed up for me because he loves me and our dog!  He came home and helped me clean up all that bloody dog shit before he showered and left for work.  These acts of kindness, they are what matter.  My son delivered a huge pot of homemade fish stew he made and left it in the fridge for us while I was at the ER.   All of this was just a reminder that there are things more important than striving, achieving, and obtaining.   There are things you can't put a price on because they are things that fill your soul.  Acts of kindness, love, compassion, empathy have a depth and value that is beyond compare. 
 Sometimes we need reminders about what is truly important.  Sometimes we need to let go of our need to control everything.    I encourage you to pause today and for a moment think about those things that really matter.  Does it matter if someone cut you off driving to work?  Does it matter if something didn't go your way today?  Does it matter if you didn't achieve everything you wanted to achieve?  If today were your last day on Earth, what would matter to you?  If today was my last day on Earth, what would matter to me would be connecting to everything I love, my family, my dog, favorite foods, friends, nature, and so many other things I can't put a price tag on.   Living with an open heart, that's what matters to me.  I'm in the state of allowing my life to unfold and knowing that all is exactly as it needs to be.   I am living completely with an open heart and tomorrow my beautiful dog will get to see another day.