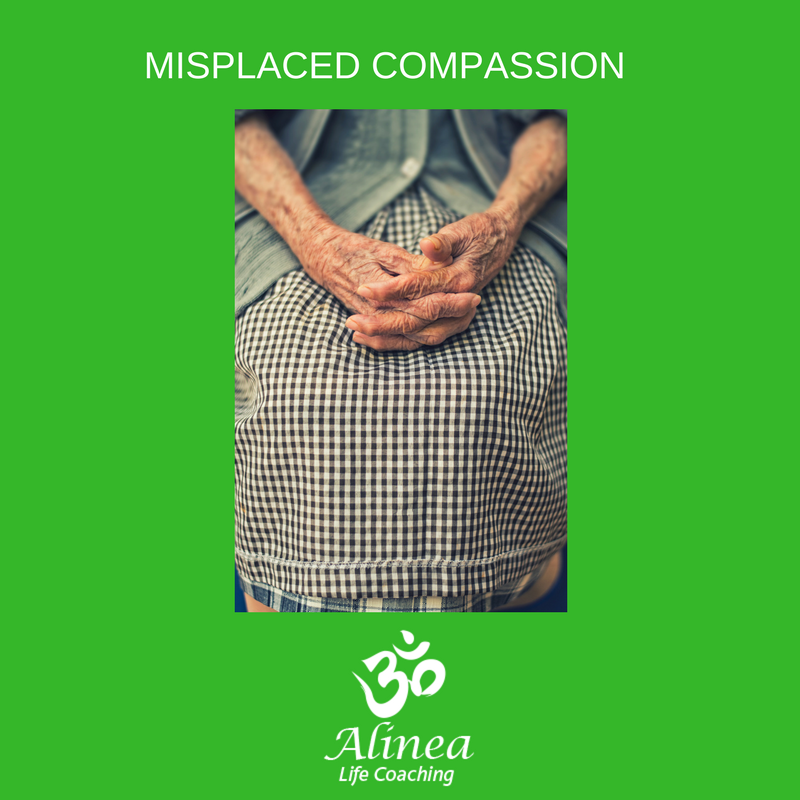 Misplaced compassion happens when we do something to make ourselves feel better but it doesn't benefit the other.  It's a situation where the recipient of the compassion suffers more because of our actions.  A prime example of this happened recently with my 15-year old dog named Louise.  She is deaf, going blind, suffers from advanced kidney and heart disease and recently had a bout of pancreatitis.   She is a mix of sweet and bitch, so trust me when I tell you we have had a contentious relationship from the get go.    She loves to rub her ass or throw up on the carpet and thinks my husband is the greatest thing since sliced bread.  She currently has a huge blood blister on her lip which bursts at inopportune times and leaves the house looking like a bloody crime scene. Other than that, she is perfect in every way.  The day I had scheduled to put her down, my older son was involved in a terrible motorcycle accident and we ended up rushing to ER to make sure he was alive instead of making it to the vet appointment.  She continued to decline over a period of a few weeks, but due to the severity of my son's injuries and 24/7 care I was giving him, I couldn't deal with the dying dog until one day, it was obvious she was checking out.  I rushed her to the vet's office, called my husband to tell him I was going to pull the trigger and put her down and asked him to come over for what I thought was the final goodbye.    Of course, the vet went through the entire spiel about how we could give her an I.V., put her on special kidney food, balance enzymes and a myriad of other "options" which I failed to listen to because I was there to give Louise "the night night shot".    To my surprise, my husband turned to the vet and said I don't care what it costs, save the dog.  I literally stood there with what I can only describe as a look of shock on my face.
Here is where misplaced compassion comes in.  My husband felt bad about killing the dog despite her obvious distress.   In the process of saving the dog, as we treat one illness, the other gets worse.  If we treat the pancreas, the heart gets worse.  If we treat the heart, the kidneys get worse.  Ultimately, the dog continues to suffer longer then dies in the end, but my husband feels better because he didn't kill the dog.  How often have we done something from a space of misplaced compassion?  I see this in parenting all the time!  Parents are so worried about their kids' fragile emotional health they make sure to minimize any kind of suffering.   Bad day at school?  Let's go shopping or out for ice cream.  You suck at sports? Let's make sure everyone gets a trophy or medal, because we don't want anyone to feel bad.   Through the process of "taking care" of everyone and making sure everyone feels good, the kids never learn how to deal with stress, or disappointment.  A parent is always there with the broom and dust pan sweeping up the mess and smoothing everything over making sure everyone is taken care of and happy.  Misplaced compassion results in kids not being able to handle the stress of everyday life.  Kids are depressed, medicated and lost.
kids have never been empowered because everything has been handed to them.  The parent's feel good, but the kids suffer in the long run.  Once they get into the real world, the boss expects them to show up and work for the paycheck.   A bonus or promotion is earned not just distributed equally.   Perhaps that's why millennials just stick to a job for about a year and want to move on.  They aren't being rewarded fast enough and their parents aren't able to make shit happen by whipping out their checkbook or talking to a coach or teacher.  We are literally emasculating our youth by our desire to prevent suffering.  Misplaced compassion has made parents feel better but created a generation of entitled kids who can't deal with life stress and in turn are suffering emotionally.
Misplaced compassion also comes into play when dealing with elderly parents.   Perhaps you live far away and as your parent's health declines so does their ability to care for their home and themselves.   The rational mind tells us to sell the house and put our parents into a nursing home or facility of some sort, but misplaced compassion allows them to stay put even knowing that our parents might leave the gas burner on, or fall asleep with a lit cigarette in bed, and the chances of a fall are very high.   Why do we engage in misplaced compassion?  Are we even aware we are doing it?  We engage because it makes us feel better and eases our conscience, but it does not actually help the person we are showing compassion towards.   There are times when we must emotionally separate ourselves from the situation and do what is best for the other even though we will feel some emotional pain around the decision.   Sometimes we need to put the dog down.  Sometimes we should put our parents in a retirement home or nursing home for their safety and our peace of mind.  Sometimes we need to let our kids fail.  We need to learn to take the emotional hit and make the hard choices.    The next time you are in a situation where your decision is going to affect someone else, take a moment to ask yourself if you are acting from a place of misplaced compassion.  You might be surprised at the answer and need to rethink your decision.